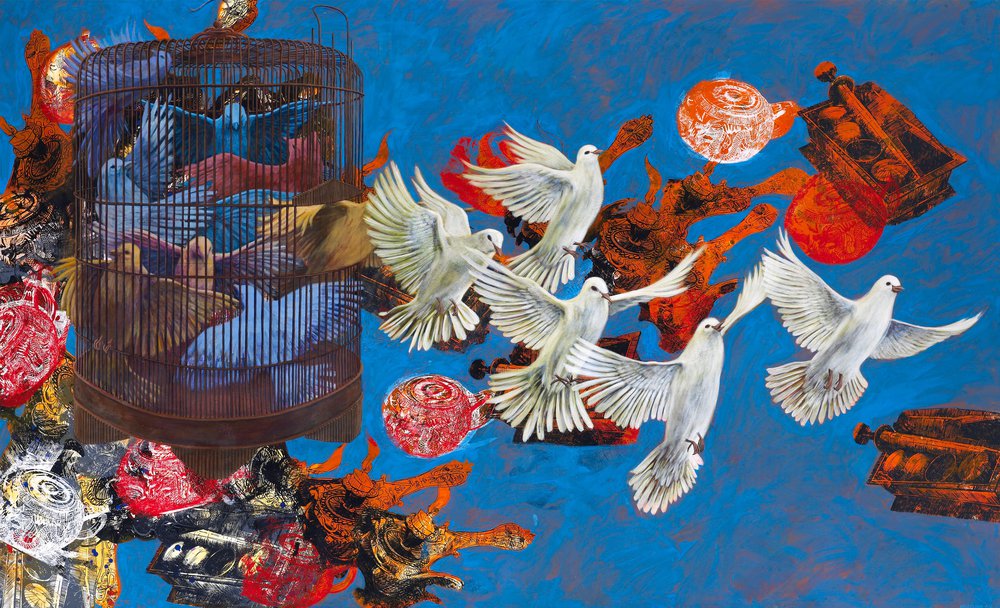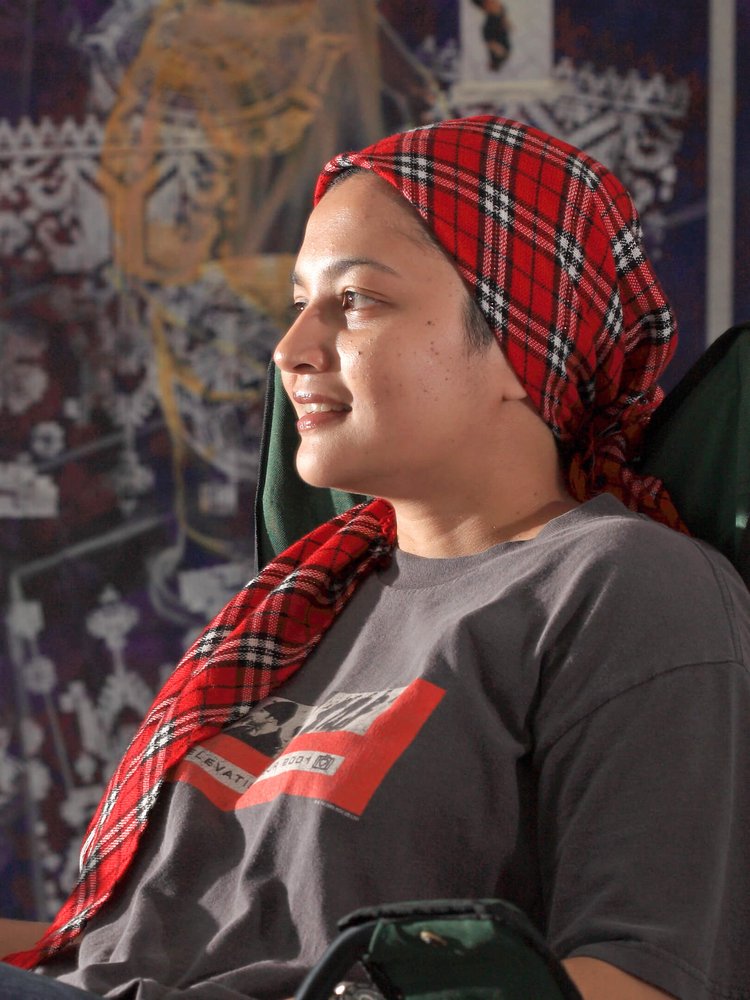 Khairina Khairuddin
Year of birth: 1976
Origin: Kedah, Malaysia
About the artist
Khairina Khairuddin briefly mulled the idea of going the way of graphic arts. But, the counsel of her seniors at UiTM swayed her back to the path of painting, especially figurative works, for which she had shown an early natural flair as a student. The decision also prompted her to form a group with other similar-minded students (Uzaini Amir, Samsuddin Lappo, Haris Ahmad Hamsani, Zulkiflee Zainul Abidin, and Ali Nurazmal). Post-UiTM, the six artists shared a studio called Dikalajingga. They were joined by the shared interest of figurative works, though today, only four of the original six are actively painting.
In Khairina's case, early works were predominantly self-portraits and explorations of both her own identity and the human form.
A radical shift in her practice occurred around 2003, when the artist distanced her practice from overtly realist works towards abstraction.
Figures that were once realistically produced were now depicted as ambiguous shapes. The intention was to provoke viewers with unfixed meanings and looser identity.
A possible reason is her questioning of Malaysia's racial demarcations, but another catalyst was the Oscar-winning Hollywood ensemble film, Crash (2004). The theme of racial differences and societal assumptions struck a chord with Khairina, who appropriated the essence of the film's layers and intertwined stories into her work, albeit with a Malaysian flavour. This is evident in the printed objects she has chosen: the tepak sirih (a Malay ceremonial betel leaf container), Chinese teapot, and Indian oil lamp.
There are perhaps more anchored narratives and messages in Khairina's works than the artist set out for. Sometimes, these are encountered by chance. Her work, The Ones That Flew Away (2008), is a good example. It features 14 white doves against a blue background, inspired by her observations. However, the painting made a timely point in Malaysia's 12th General Elections in 2008. Five states were won by the Opposition coalition, the same number of birds that managed to escape from the gilded cage.

Khairina's other painting in this collection, I'm Just Gonna Sleep Over It (2008), also touches on the landmark elections.
The sleeping cat is a cipher for the artist's own feelings towards the chaos of the event (represented by the green splashes of paint and the barrage of party flags in the background). The painting also offers viewers a glimpse of her more recent directions, chiefly in the mixture of print and paint. The artist seeks inspiration from everyday life. She consciously spurns the idea of producing painting series, as well as attempts to classify her style that is constantly moving forward.
Education
2000Bachelor Of Art In Fine Art
Universiti Teknologi Mara (Uitm) Malaysia
Artworks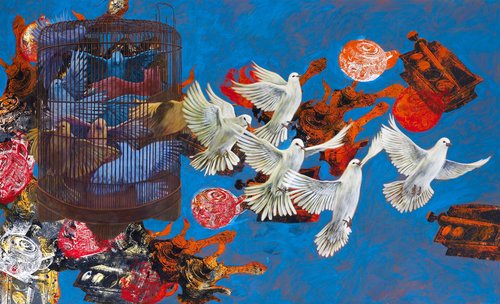 The Ones That Flew Away (2008)
Khairina Khairuddin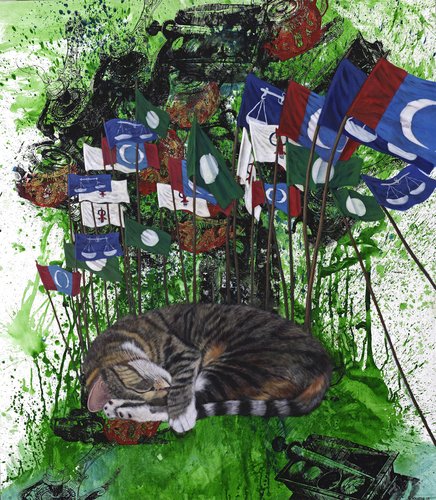 I'm Just Gonna Sleep Over It (2008)
Khairina Khairuddin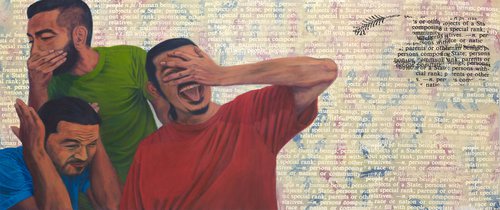 Times Are Gone For Honest Man (2009)
Khairina Khairuddin