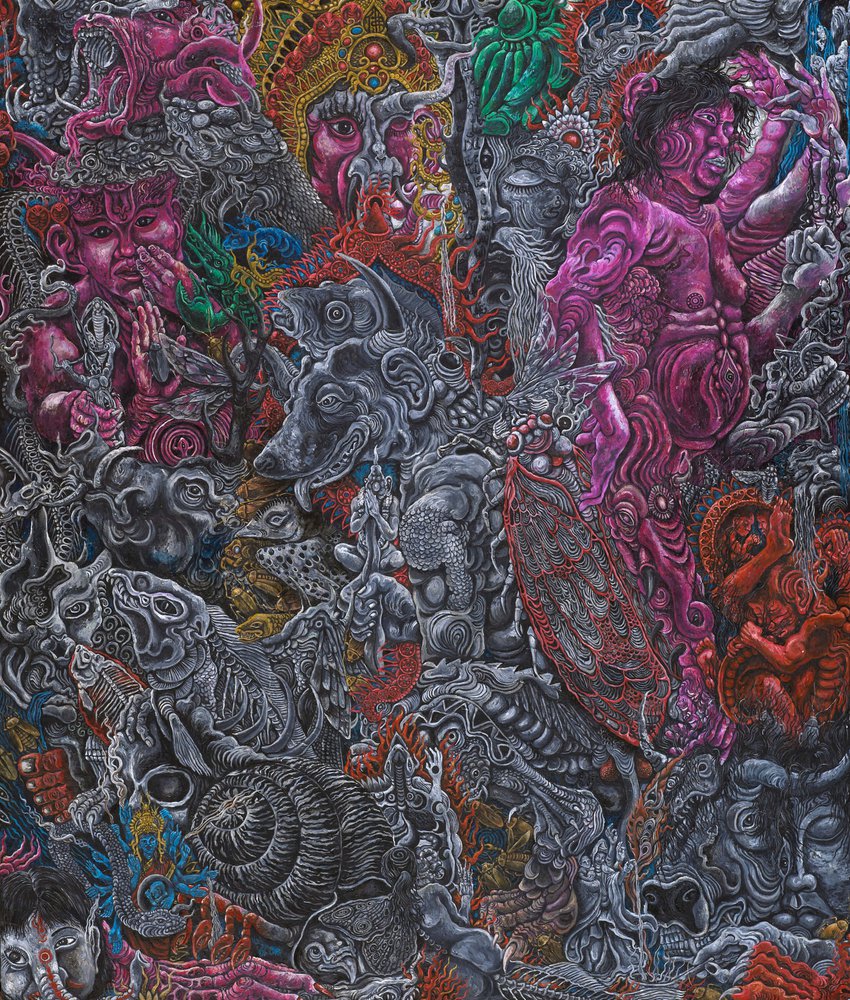 Goh Chai Seng
Year of birth: 1977
Origin: Negeri Sembilan, Malaysia
Young Contemporaries
17 Artworks
About the artist
Goh Chai Seng pursued a formal art education at the Malaysian Institute of Art (MIA), but has been living a relatively quiet life in Klang since he graduated. Painting only in his spare time, Goh has been working separately from the thriving local art scene, producing a relatively small number of works that had – until 2009 – laid dormant in his flat-cum-studio.
This Cinderella-esque tale injects romanticism into the artist's life and his isolation from the art scene can be counted as a reason for the distinctiveness of his works. He has, after all, had less pressure to conform to market demands or bow to trends dictated by commercial wants.
Instead, Goh's works – chiefly oil paintings – are products of the artist's environment, Klang. It is the capital of Selangor, but Klang remains relatively untouched by widespread development or change as seen in its neighbouring city, Kuala Lumpur, merely 30 kilometers away.
Klang's multiculturalism and older traditions are what have fed into Goh's artworks. The two dominant influences in his practice have been Hinduism and Taoism and Goh's works are teeming with motifs drawn from these two sources.
Facets from both religions are visible in his art from as early as 1999. The splendid curves of the Chinese dragon and prayer urns can be seen in Tao Temple, whilst Gajah-Gajah from the same year features Lord Ganesha (known for his elephant head) and the sacred Hindu cow. Both have been executed with expressive brushstrokes – typifying Goh's early style – in dark, rusty colours. And, they can be seen as a fitting pair, especially since the artist himself detects many similarities between both religions; the cycle of life and death, spiritual practices, and the heavy reliance both religions have on iconography, for instance.
Like Goh's other work from 1999, Black Hole (an eerie painting with a demonic figure presiding over the central portion of the canvas), these paintings marked a fresh chapter for the young Goh, who had up till then, been producing abstract works. However, they boast an inherently dark nature as evidenced by elements, such as a pitchfork, figures that resemble guardians of hell, and serpents.
The artist attests this somberness is not a reflection of his inner state. Instead, he has drawn inspiration from his surroundings; chanting at temples in Klang, for example, were a huge draw and Goh aspired to capture the mystery and mysticism of this act in his early paintings.
The dark and gloomy quality of Goh's works continues into the new century with Three Hory Faces (2000). It also sets the tone for the new millennium. There is a higher level of finish in this work and more precise detailing, allowing for individual motifs and symbols to stand out.
By 2004, Goh's compositions increase in complexity. Influences from other parts of Southeast Asia (the artist professes to a love of Balinese culture and the unmistakable Thai headgear is seen in Laughing God) are visible and Goh begins inserting personal themes into his work. The haunting Mama & Son (2004) is an example and the painting refers to the artist's tumultuous feelings upon hearing he was a father-to-be.
The most recent of Goh's paintings in this collection are from 2009 and they're arguably the culmination of the artist's long exploration of his original themes. Detailing is now at its optimum and the swirling patterns and lines have been replaced with a bevy of single elements. The scenes in Spirit I, II, and III are chaotic and imaginative. Anthropomorphized animals, fantastical demons, and a blaze of individual elements that run the range from animals, Chinese altars, porcelain bowls, old-fashioned weighing scales, and even mosquito coils float seamlessly amongst each other and Goh uses these intertwining compositions as vehicles to express his thoughts on social matters, such as prostitution and the life of immigrants in Malaysia.
Education
1999Diploma In Fine Art (Painting)
Malaysian Institute Of Art Malaysia
Artworks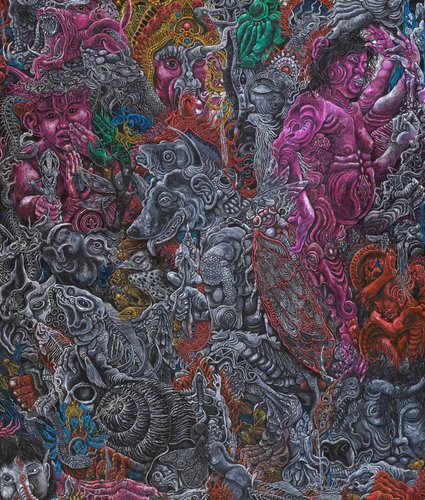 Pandora's Box (2011)
Goh Chai Seng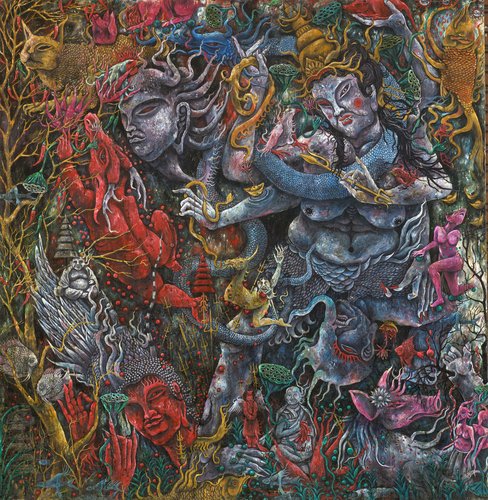 Goddess Grants Wishes (2011)
Goh Chai Seng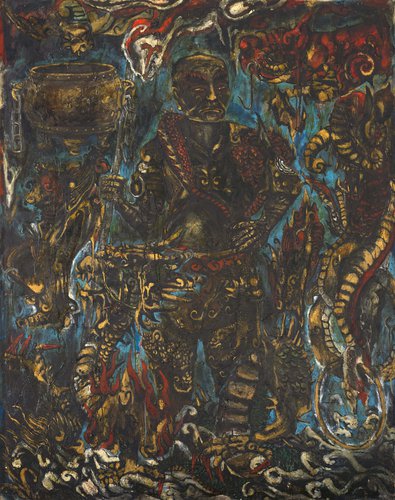 Tao Temple (1991)
Goh Chai Seng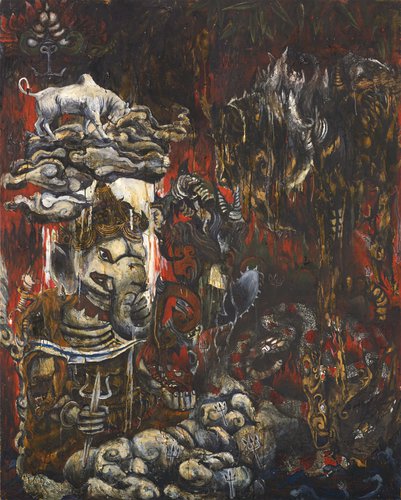 Gajah Gajah (1999)
Goh Chai Seng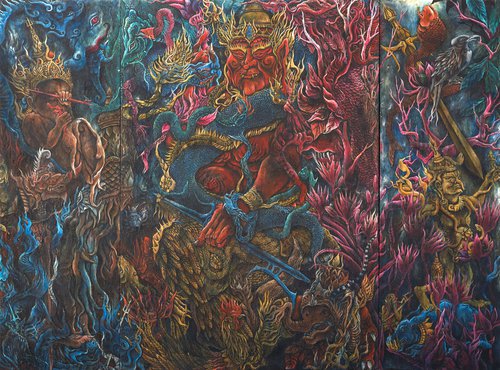 Laughing God (2004)
Goh Chai Seng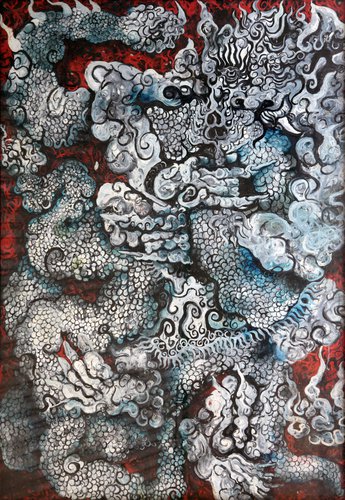 With The Snake Growth Of Human Body (2003)
Goh Chai Seng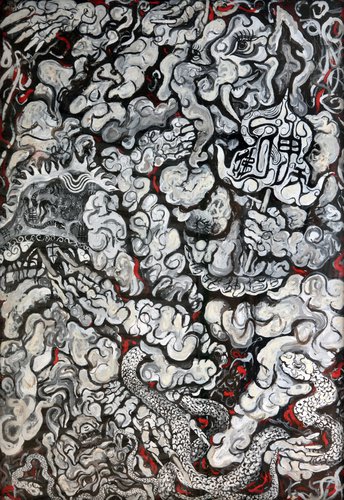 Twin Souls (2003)
Goh Chai Seng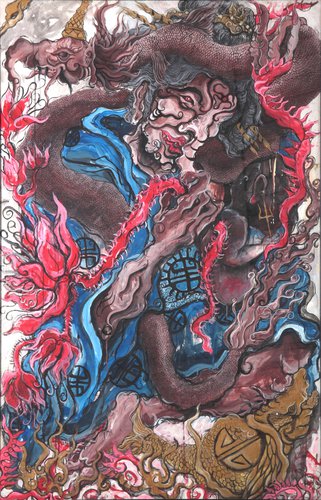 Lonely Women (2003)
Goh Chai Seng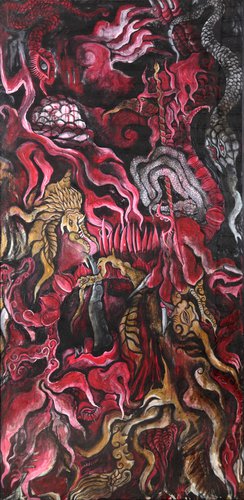 Body Heat (2003)
Goh Chai Seng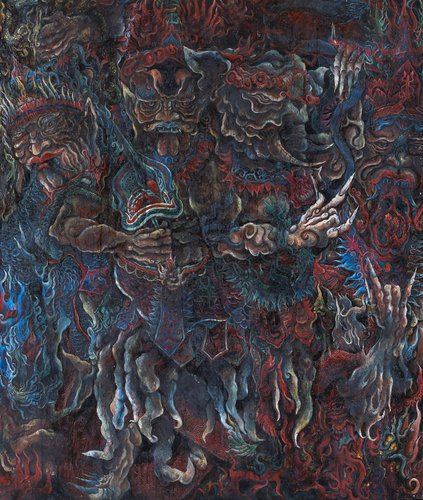 Untitled 1 (2011)
Goh Chai Seng