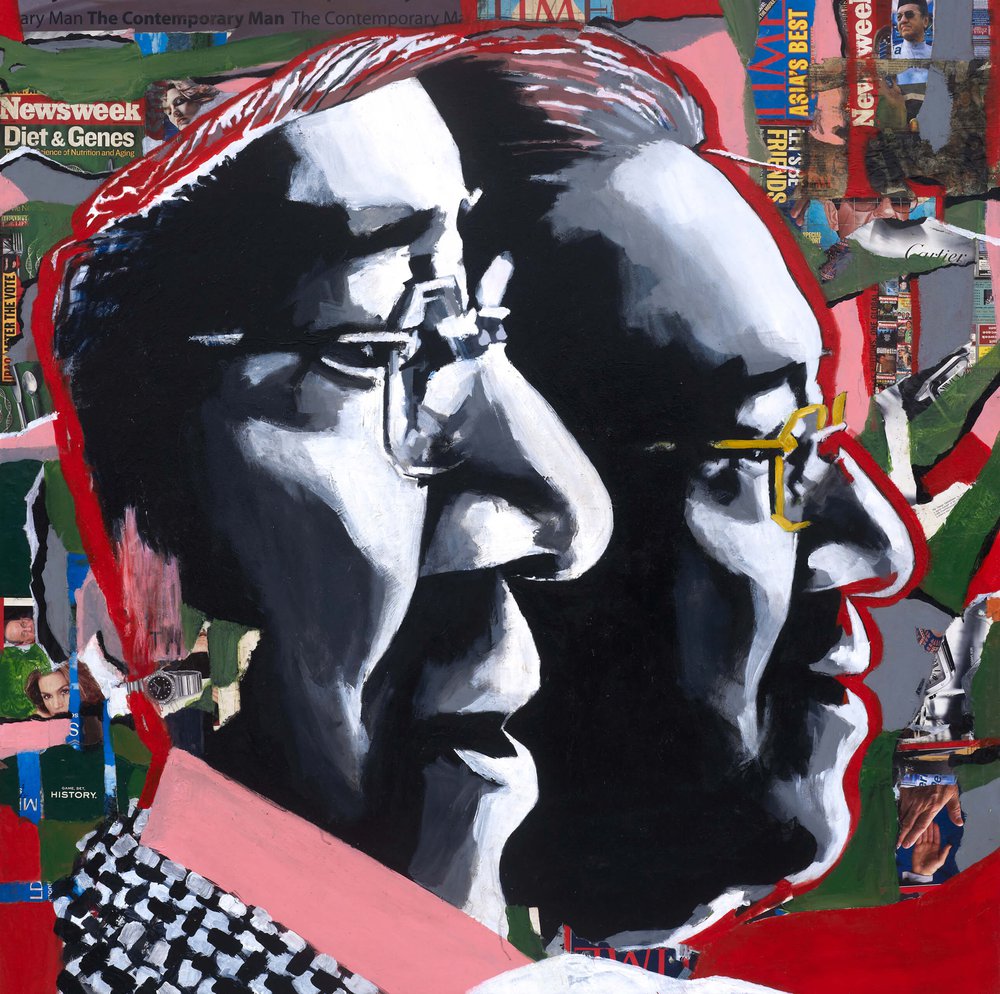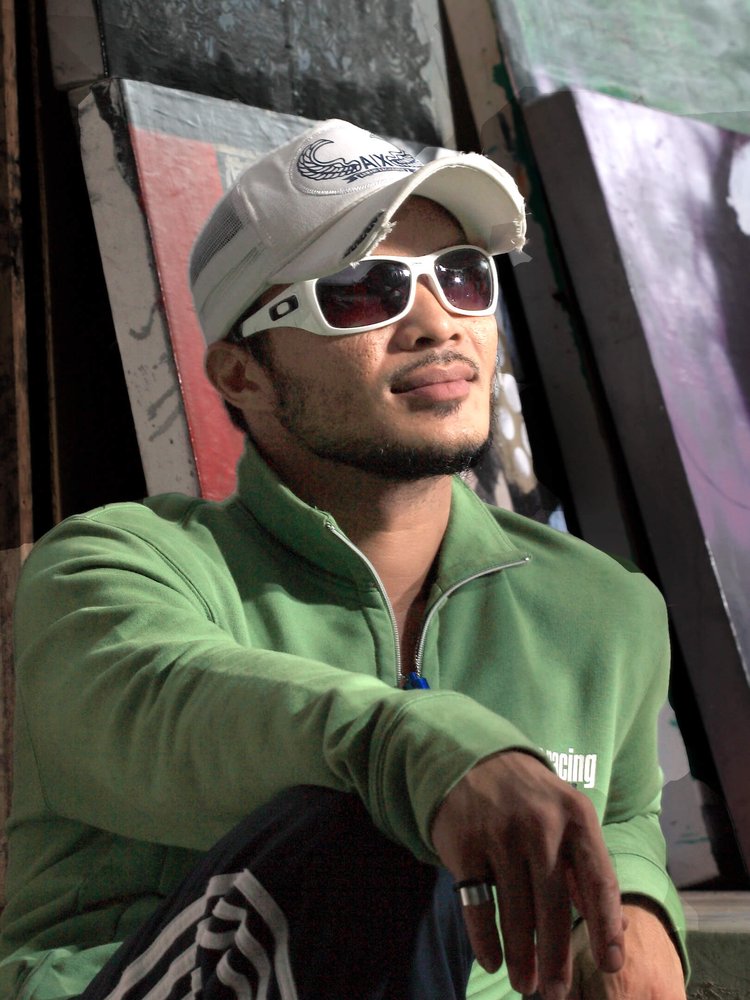 Azmin Hussein
Year of birth: 1974
Origin: WP, Malaysia
About the artist
In the vast genealogy of Pop Art, Azmin Hussein would be a very distant relative of the founding fathers of the movement: Andy Warhol (1928-87), Robert Rauschenberg (1925-2008), Jasper Johns (B.1930), and Richard Hamilton (B.1922) to name a few.
However, the artist has had the honour of being guided by one of Malaysia's pioneer Pop artists, Ahmad Azahari Mohd Noor (or Jeri as he was fondly known), who played a seminal role in shaping the younger artist's career and also proved a father figure of sorts.
After discontinuing formal education, Azmin was taken under Jeri's wing and the two formed a strong bond through friendship and mentorship.
Jeri's influence can be seen in works such as Bird of Prey (2005), a painting initiated in the mid-1990s when Azmin and Jeri were living under the same roof. The yellow chair and watering can were actual objects in Jeri's garden. The split portrait of Mona Lisa and Vincent Van Gogh, along with the collaged bird and fence with the words Bismillah ir-Raham ir-Rahim ("In the name of God, most Gracious, most Compassionate") were added in later.
Another work that adopts the hallmarks of Pop Art is Untitled (2005), which features a discarded wok. The cooking implement was painted red and the image of men and women were transferred onto its metal surface. Lastly, the Coca-Cola logo was stencilled in – a difficult feat, as achieving the illusion of a flat surface on the wok's curved base is tricky.

The subject of recognizable motifs and strong experimentation carries through in the rest of the artist's oeuvre. In his first seminal work, Pop Art Revolution (1992-2005) for example, we see Lenin's bust floating amidst a swarm of commodities (MTV, Coca-Cola, Leica camera) and the Time magazine cover is featured throughout.
The juxtaposition of one of Socialism's greatest icons with models of capitalism is a comment on the emergence of a new revolution for our time, as underdog nations rise to prominence. And, the artist has included Malaysia's fourth prime minister, Tun Dr. Mahathir Mohamad, and reigning pop queen (Datuk Siti Nurhaliza) as icons from his nation, thus positing his own identity within the wider global context.
Whilst the artist is a skilled draughtsman and figurative artist, he aims for a coincidental and casual appearance in his artworks, belying actual production methods that are challenging and meticulous. Recovery (1992-2005), for example, contains multiple layers – paint was first applied in thick swabs with rollers; texture and image were then constructed using a mixture of collage and image transfers and are actually part of a much larger canvas.
Traces of Azmin's other artistic endeavours are also apparent in his work. In the early 1990s, the artist painted murals at popular nightspots in Kuala Lumpur, and, also worked as a commercial artist, producing cultural motifs, especially designs pertaining to Islamic art.
Education
1991N/A
St-Jonh's Institution Malaysia
Artworks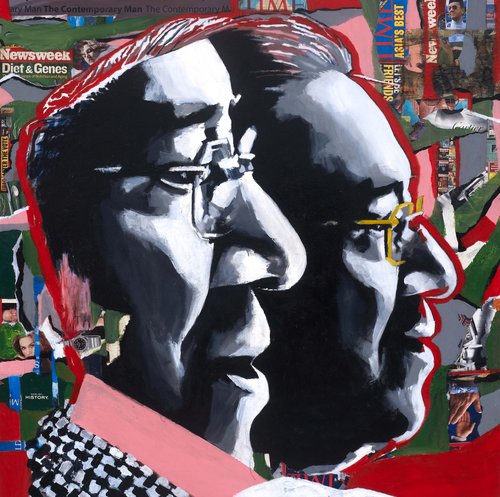 Contemporary Man (2010)
Azmin Hussein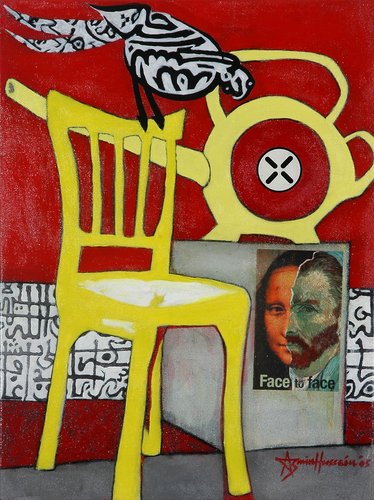 Bird Of Prey (2005)
Azmin Hussein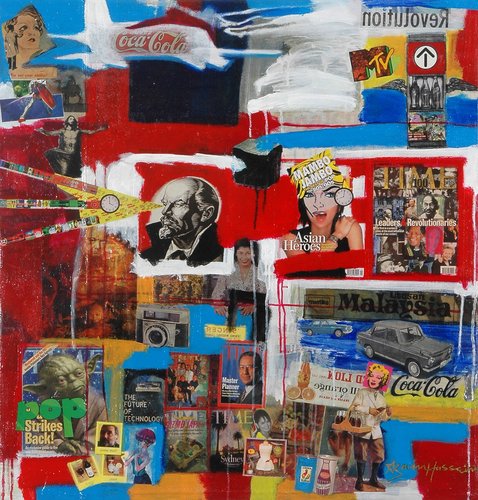 Pop Art Revolution (2005)
Azmin Hussein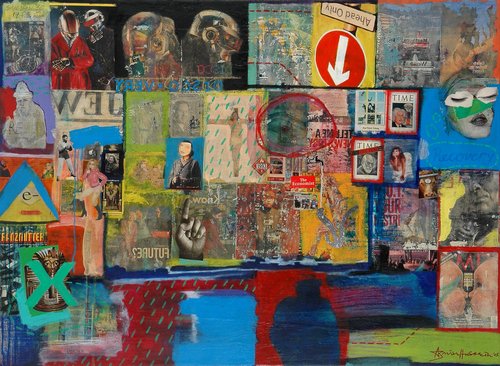 Recovery-Transfer (1992)
Azmin Hussein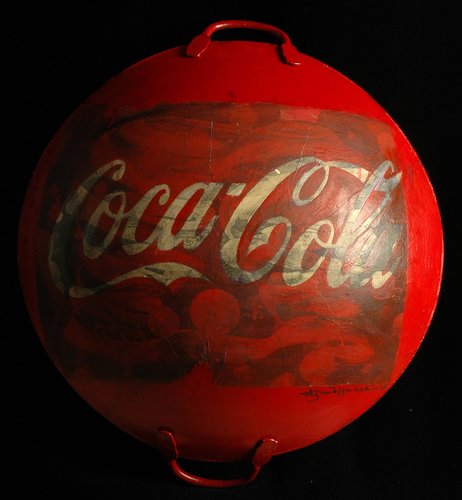 Untitled (2005)
Azmin Hussein