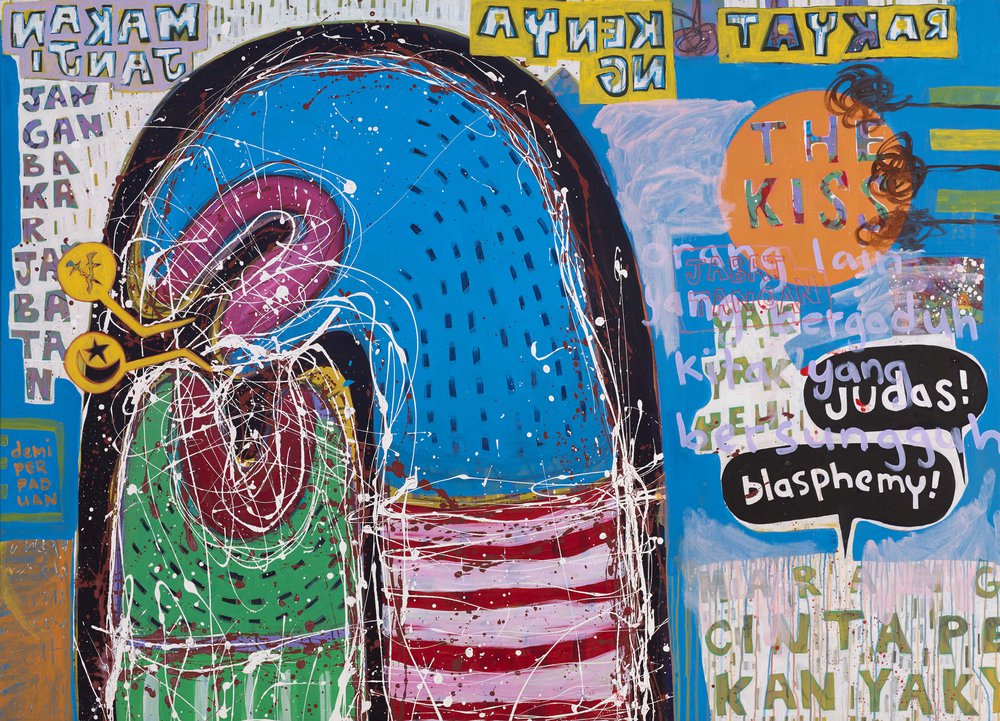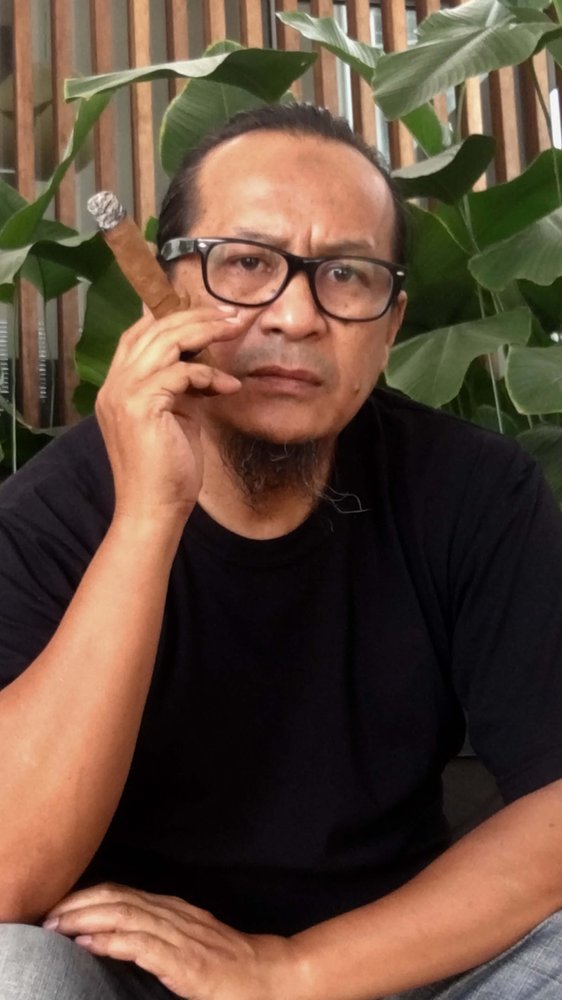 About the artist
Bold, witty and colourful, Abdullah Jones' paintings and mixed media artworks powerfully combine lively imagery, nods to art history and text as an entry into a myriad of discussions tied together by themes of patriotism, institutional critique and global socio-political curiosities. Born in Kuantan, Pahang, in April 1964, Abdullah's socially active position is manifest not only in his artistic practice, but also his work as an activist and writer. His concerns with social discourse traverse multi-disciplinary formats, including writing, which he engages in both conceptually as a poet and from an observational standpoint with short stories.
In 2016 Abdullah published two collections of past writings: Sajak Sajak Suci, a collection of poems from 2002 to 2015, and Hikayat, a collection of short stories documenting the everyday. Themes of patriotism, self-critique and social critique recur throughout his portfolio, which has received critical recognition both in Malaysia and abroad. Locally Abdullah has presented work at several exhibitions such as Gabung at Pahang State Art Gallery and Saudagar Cinta at Pahang State Art Museum, Saudagar Cinta at Pahang State Art Museum, T!GA (2014) at National Gallery Kuala Lumpur, Benchmark (2016) at Artcube Gallery and Love Me and My Batik (2016) at Ilham Gallery. Internationally he has participated in events such as Un-Cut at Gallery Shambala in Copenhagen, The Outsider Art at Octane Photographic Studio/Gallery in Ferndale, Minnesota and most recently BATIK: Expression of Identities at Chinese Cultural Centre Museum, Vancouver, Canada in 2016.
Upon returning to Malaysia in 2007 after a brief spell residing abroad, Abdullah was instrumental in the creation of Rajawali Art Studio. An artist run space in Pahang, Rajawali Art Studio was born out of a gap identified in support structures for artists living and working in Pahang at the time. Abdullah's involvement in Rajawali spoke to a practical awareness of structures that need to exist within the local art world, and the forms they should embody in order to provide support. Artist run studios occupy an important position in the global art ecology, and this is no different in Malaysia as evidenced by other artist run initiatives, such as 12 by Susyilawati Sulaiman or artist collectives such as Empat Persepsi and Matahati. Rajawali described their mission as aiming to help artists based on the needs of the individual- from supplying materials for production to studio space to accommodation. In providing a space for artists to interact freely, Rajawali fostered critical discourse and intellectual engagement in Pahang, thus acting as a crucial component in the development of a critical contemporary art scene on Malaysia's East Coast.
It is interesting to note that on his return to the country Abdullah chose to immediately live and work in Malaysia's East coast, basing himself in the heartland of Malay culture. In a post-colonialist environment such as Malaysia this might be read as an awareness of valuing one's own culture during the process of re-establishing identity in the post-colonial era. This subject was strongly hinted at in Patriot Tak Reti Bahasa, whose tittle translates into "A patriot not understanding Bahasa (Malay)". Language is central in uniting a nation and providing national identity, particularly in a multi-ethnic environment. Additionally, establishing Malay as the national language is key after a long period of being ruled by the British, who used English as a tool establishing colonial rule.
More recently Abdullah shifted to a new studio space in Nilai, just outside the capital city of Kuala Lumpur. That his own life actively colours his creative output was exemplified in the new series he immediately produced in this time, that spoke of changes both physical and emotional undertaken in the move. Keeping up a lively discourse on topics ranging from patriotism to socio-political commentary to institutional critique, he began inviting audiences into the inner workings of his life and emotions, revealing feelings and reactions during this period of intense personal and professional change. In 2018 he unveiled these works at Lolong/The Scream!, a solo exhibition at Artcube Gallery.
Abdullah's success in establishing a strong rapport with his audience may be attributed to the humorous tone his aesthetic offers. Potentially sharp, stinging messages are with the incorporation of playful icons, such as the sock puppet, which debuted in The inclusion of a childlike element is reminiscent of the works of pioneering Malaysian artist Zulkifli Dahlan. A strong influence on Abdullah, Zulkifli was fond of exploring social issues through cartoons and caricatures in works such as Kedai-Kedai (1973). Abdullah recognized the tension that results from merging contrasting whimsical and sombre elements as being highly reflective of the issues swirling throughout contemporary society, resulting in his colourful, energetic and expressive art.
Education
Artworks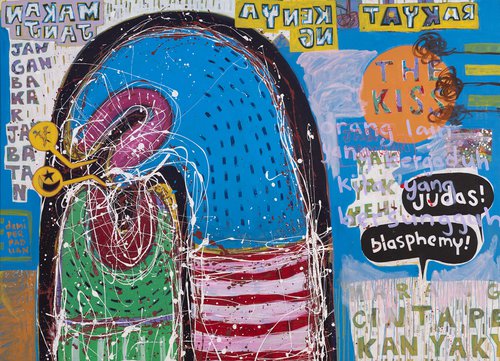 Comolot (After Klimt) (2016)
Abdullah Jones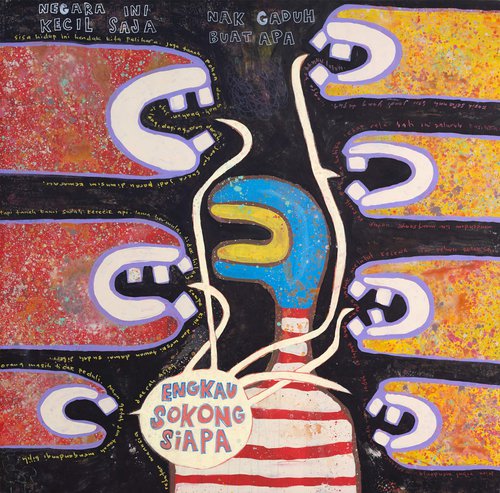 Anak Mak ke Anak Abah (2016)
Abdullah Jones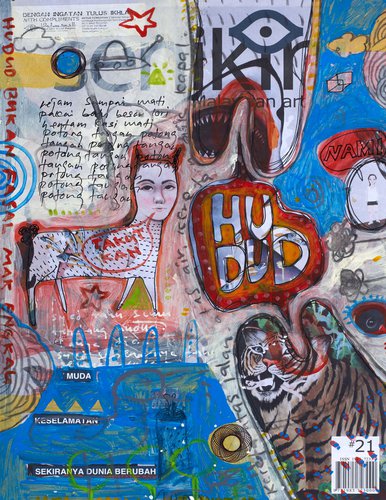 Scare Monger (2015)
Abdullah Jones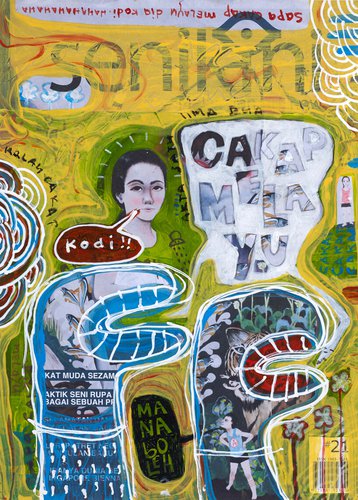 Sketch for Patriot Tak Erti Bahasa (2015)
Abdullah Jones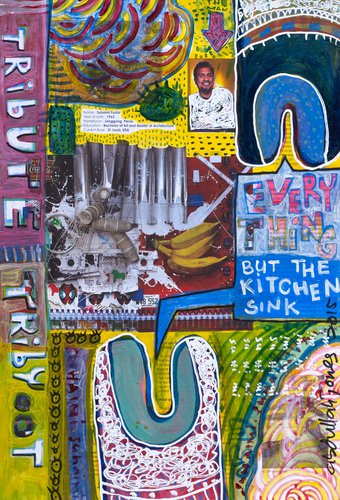 Scare Monger Tribute to Suhaimi Fadzir (2015)
Abdullah Jones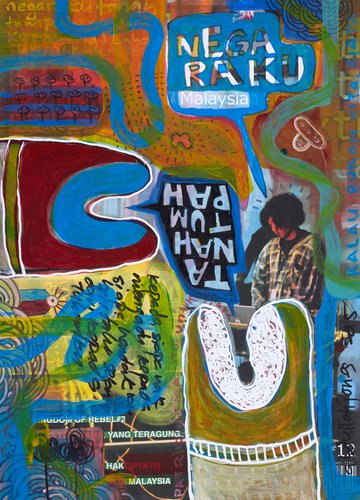 Tanah Tumpah Darahku (2015)
Abdullah Jones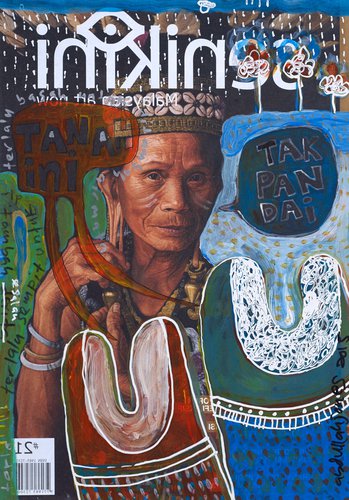 Orang Asli Tak Pandai Kira Duit (2015)
Abdullah Jones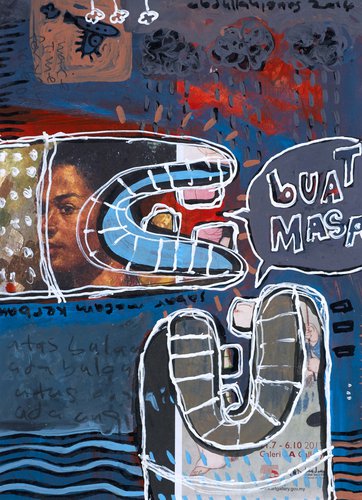 Make Time (2015)
Abdullah Jones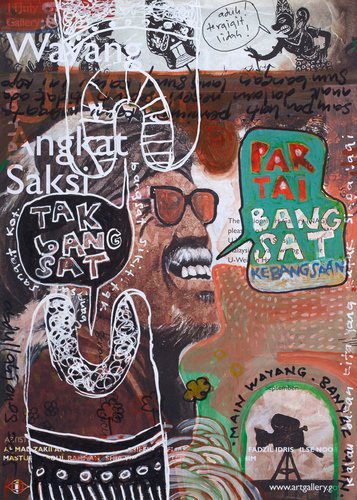 Main Wayang (2015)
Abdullah Jones